Power outage sounds romantic for the 1st hour only or in movies. But in reality, we need a generator to keep essential things going in an emergency.  Generators have long been serving their core purpose of power provision in the most distant areas and on the occasion of misfortunes because of regular disasters. In terms of design and performance, these machines have developed a thousandfold to cater to the new power needs.
Moreover, with cutting-edge innovation, inverter generators are another expansion to these newly present adaptations of generators. These generators are remarkable in functionality and features and have been a superior compromise contrasted with their standard counterparts.
For inverter technology, a face-off between these two, the hands-on traditional vs inverter generator, would result in a win-win situation. Still, when it comes to buying this product, this fact is just not enough. The inverter generator market has a lot to offer from plenty of producers out there, considering the performance, design, features, and price besides several variants.
What are Inverter Generators?
Inverters generators is a recent technological concept that involves advanced electronic circuitry and state-of-the-art magnets. Although like conventional generators, it also outputs AC current but in 3 steps. It uses an inverter alternator that produces three-phase AC power which is then converted into DC in the 2nd step and inverted back to the AC power in 3rd step. This power is safer for electronics like computers or mobile devices. Inverters are typically more appliances than conventional generators, although both units use gasoline engines to operate. Inverter generators are also mostly more expensive than your standard generators, too. Inverters have a unique ability, however: they can pair together to provide double the electricity with the right cords and equipment.
Key Factors for choosing Inverter Generator
Some of the  important factors that play a role in picking the best inverter generator are:
Perfect Wattage
Lower Noise Levels
Load Sharing
Power Output Rating
Runtime Efficiency
Size, Design, and Built-up
Quality and Warranty
Portability, Compactness, Convenience
Fuel Tank Size and Capacity
Solar Option (eco-friendly)
Electric Remote Start
Safety, Installation and Maintenance
Multiple Outlets
Price
There are certain features to be considered keeping in view the latest technology:
A critical safety feature that automatically turns off the engine in case the CO sensor detects the alarming levels of the deadly carbon monoxide gas building up and crossing certain levels.
A feature to safeguard against the risk of carbon monoxide (CO) gas poisoning.
When there is a power outage, this feature automatically turns on the generator without you having to lift a finger.
In order to get rid of the hassle of pulling the string to start the engine, a push-button alternative is provided for convenience.
Alternative Fuel Capacity
It's good to have a generator that can work on more than one fuel source.
For checking the fuel level available in the generator.
To prevent the generator from damage due to low oil levels, the generator features low oil shutoff where the generator shuts down automatically once the flag raises.
By spreading the load using multiple outlets, the generator makes the best use of the wattage.
For connections to the generator so you can plug in appliances without running extension cords outdoors which is potentially risky thing to do.
We have listed some of the top recommendations among the best generator brands that are considered ideal for grab-and-go power. Though many of the options we have suggested are not enough to power an entire house, with smart power management, you can make the most of them during the period of a power outage. Many of the listed options being small will be great for camping, tailgating, and working on outdoor projects. The below-mentioned top picks will go a long way towards making sure you choose the right one.
---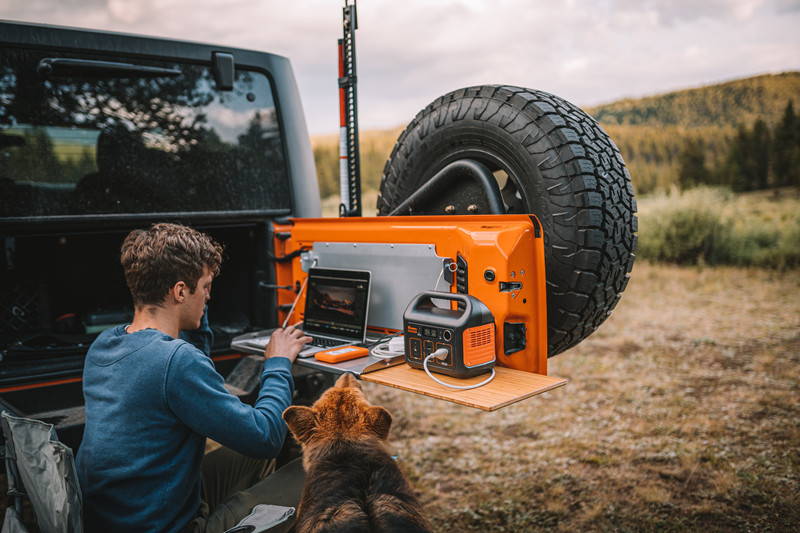 With state-of-the-art technology, this first Lithium PortablePower Station by Jackery envisioned providing green energy solutions and power usage for outdoor life during hunting and travel camping. The Off-grid Jackery Solar power-enabled Generator provides a green, clean, and reliable power supply, enabling the generator to solar recharge with high speed via MPPT controller. It is the best portable power station for use during outdoor activities or in case of emergencies. Equipped with a solid handle, the Jackery Portable power station is easy to carry and conveniently operable no matter wherever you go.
Being termed as a green solar generator, Jackery Explorer 240, having a built-in Maximum Power Point Tracking (MPPT) controller, has the ability to get the maximum recharging efficiency and is easily rechargeable with the uniquely efficient solar panel that is sold separately; the Solar Saga 60 Watts for the provision of eco-friendly and clean power. As a matter of convenience, other flexible recharging ways also exist, e.g., with wall outlets, car outlets, and generators. It also provides protection from over-temperature, short circuits, over-discharge, overpower, and over-voltage. It also enables convenient recharging by:
Solar Saga 60 Watts within period of 5.5 hours (0 – 80 percent)
Wall outlet within time span of 5.5 hours (0 – 80 percent)
Car outlet, within time period 5 hours (0 – 80 percent)
It can power these devices using a pure sine wave inverter with multiple outputs for different devices:
Smartphones

Tablets

Laptops

Lights

Drones
It is unable to support devices over 200 Watts like:
Blender
Ice Shaver
Electric Grill
Alongside the User manual, the package includes a Jackery explorer 240 powerhouse with a portable Power Station of 240 Watt-hours, an AC adapter, and a car charger cable. The multifunctional outputs have been mentioned in item specifications.
Item Specifications:
Power: 200 watts
Item's Dimensions (L x W x H): 5.19 x 9.05 x 7.67 in
Item's Weight: 3.1 Kgs (6.6 lbs)
Voltage: 110 Volts
Capacity: 240 Watt Hour (16.8 Ah, 14.4 Volts)
Type of Battery: 67000 mAh Lithium-ion Battery
Input: 8mm DC, 12 Volts ~ 30 Volts
AC Output: 110 Volts, 200 Watts (400 Watts peak)
Carport: DC 12 Volts, 10 Amperes, 120 Watt
2 USB Outputs: 5 Volts, 2.4 Amperes (each)
Color: Gray and Orange
---
This inverter generator by Briggs and Stratton is quieter than a typical conversation at just 59 decibels operating volume at 25 percent load, therefore without any doubt, we can say that is the best quiet generator available in the market. It is the best generator for tailgating and the best small generator for camping. Now when you are off for an adventure, you can take all the fun along with you.  For the reduction of noise, it features a unique Quiet Power Technology (QPT), which adjusts the speed of the engine automatically, so it can also be termed as an eco-friendly device, furthermore, it saves fuel and runs longer with a runtime of 8 hours at 25 percent load.
With the added quality of being fuel-efficient, the 111 Cubic Centimeters OHV engine is known to produce 2,200 starting watts and 1700 running watts. The easy-carrying design featuring an intelligent H-styled handle ensures convenient carrying is engineered to be portable, compact, and with easy mobility, the H-handle design of the unit is not only unique but also ensures convenient carrying by one or two people.
Considering the safety of laptops, computers, gaming consoles, and TVs, this product passed the safety test with its total harmonic distortion marked at less than 3 percent. Regarded as safe for TVs, we can also list it as the best generator for TVs. For more power without sacrificing a household outlet, a dedicated parallel connector port is available for connection between 2 units of the PowerSmart Series inverter generator (P2200 or P3000) to pull more power.
The USB ports are also enabled if the juice is required for portable electronics. For continuous operation of approximately 8 hours at a load rate of 25 percent, it consumes 1 gallon of fuel, which is quite impressive. In terms of the variety of outlets, two 120 Volts 20 Amperes households and one 120 Volts 20 Amperes  DC outlet with the availability of a USB adapter are also present. It is also available in:
2400 Watt with CO Guard Carbon Monoxide Shutdown Technology
3000 Watt
4500 Watt
6500 Watt with CO Guard Carbon Monoxide Shutdown Technology, Protective, Noise-Reducing, Shell and 306 Cubic Centimeters OHV Integrated Engine
Item Specifications:
Power: 2200 Starting Watts and 1700 Running Watts
Item Dimensions (L x W x H): 22.4 x 14.4 x 19.9 inches
Product Weight: 55 lbs
Voltage: 120 Volts
Type of Engine: 4 Stroke
Displacement of the Engine: 111 Cubic Centimeters (cc)  OHV
Run-time: 8 hours
Tank Volume: 1 Gallon
Muffler: Super Lo-tone
Start type: Recoil
Color: Grey
Warranty: 24 Months Consumer / 12 Months Commercial
---

It is one of the best quiet generators, which is considered quieter than a window air conditioning unit or the average pleasant human conversation because the engine has a displacement of 79 Cubic Centimeters (cc) type 4-stroke OHV engine operates at an extremely quiet sound level of 51 decibels (dB) at 1/4 of the load. For safely charging sensitive and vulnerable electronic devices like smartphones, TV, tablets, laptops, etc., total harmonic distortion is limited to under 1.2 percent at full load and 0.3 percent at no load. It is known to produce reliable and clean power rated at 2000 surge watts and 1700 running watts.
WEN 56203i features the fuel shutoff technology, which not only prevents blockage but also limits maintenance and maximizes the generator's lifespan by consuming from the carburetor the left-out fuel before automatically shutting down, which further helps in fighting against the build-up blockages that are usually caused in the carburetor by stagnant fuel.
It is considered best for camping sites as it is convenient to transport and store due to the ultra-lightweight body that weighs in at a mere 39 pounds. It is equipped with a pair of three-prong 14A NEMA 5-20R receptacles of 120 Volts, one 12 Volt 8.3 Ampere DC receptacle, two 5 Volt USB ports. It is also equipped with 3 in one switch. It is known to produce clean, reliable, and non-invasive power wherever it's needed.
As devices are plugged into and out of the panel, this generator can automatically adjust its fuel consumption with the help of an eco-mode feature that allows the motor to prevent unnecessary gasoline usage, which in turn maximizes fuel economy.
By using a WEN packaged Parallel Connection Kit, which is sold separately, you can easily connect any two inverter generators by WEN in order to share wattage amongst multiple units. To safeguard both your generator and your electronics from damage, the following features are provided:
Built-in overload protection
Indicator lights
Low-oil and low-fuel automatic shutdown
It is also available in 2350 surge watts, and 1900 rated watts.
Item Specifications:
Power: Surge 2000 Watts and 1700 Running Watts
Item Dimensions (L x W x H): 17.3 x 11.5 x 17.7 in
Item Weight: 39 lbs
Voltage: 120 Volts
Engine Type: 4 Stroke
Motor Displacement: 79 CC OHV
Tank Volume: 1 Gallon
Runtime: 10.8 Hours Quarter-Load
Color: Available in Orange and Black
Warranty: 24 Months
---
The Generac 7676 GP8000E Portable Generator is considered the best 8000-watt portable generator, which features Power Rush advanced technology meant to deliver over 30 percent more starting capacity, allowing you to do more with less. It increases electric current upon demand above rated output when starting electric motors. It has a power factor of 10000 starting Watts and 8000 running Watts.
The electric start model with included battery helps with easy operation. Low-oil level shutdown automatically safeguards the engine from damage. To track maintenance intervals, Hour meter features are also available. For unexpected outages, it has got your back with the plug-in battery jack, which up-keeps with the situation by making the battery charged and ready.
Generac durable OHV engines with splash lubrication provide the engine life longevity.  It is equipped with a steel fuel tank having a large capacity that incorporates a fuel gauge which is meant to provide durability and a run-time of up to eleven hours at ½  load. A 1 ¼" steel-tube cradle is also available for added durability and strength. Heavy-duty, never-flat wheels are an added plus that allows for convenient transport.
It offers many other benefits that make this model a favorite for emergency power for recreational use at camping sites or RV. It has an ergonomic design that provides safety under rough or rugged environments because the covered outlets are present for added protection.
Item Specifications:
Power: 10000 Starting Watts and 8000 Running Watts
Item Dimensions (L x W x H): 27.2 x 27 x 26.5 inches
Item Weight: 198 pounds
Voltage: 120 Volts
Engine Displacement: 420 Cubic Centimeters OHV
Runtime: 11 hour run-time at ½ load
Engine RPM: 3600
Color: Available in Orange and Black
Tank Volume: Large-Capacity Steel Fuel Tank (7.9 gallons)
---
The telescoping handle of Briggs & Stratton 30795 P4500 PowerSmart Series is ideal for recreational use at RV or campsite for fun at peak. This inverter generator allows for easy maneuverability. The display panel is engineered to be multi-functional and continuously monitors the power usage, fuel level, and run time. There are four 120 Volts, 20 Amperes outlets, one 120 Volts, 30 Amperes RV outlet, and two USB ports that keep multiple items powered simultaneously and help you to stay connected in unpleasant situations.
The CO Guard carbon monoxide shutdown protection feature is a cherry on top where for added protection, this innovative feature shuts down the generator if CO accumulates up to harmful levels in the generator's operating area. A lightweight, compact design offers easy storage. The inverter technology offers the production of smoother power for highly sensitive electronic devices. Push-button electric start with an automatic choke is available for easy turning on and off. Monitoring of power usage, fuel level, and run time is no The multi-functional display panel. It is equipped with a protective shell to minimize noise while protecting internal components.
With the quiet power technology (QPT), the engine speed is adjusted automatically, resulting in further reduction of noise, fuel consumption, and dangerous emissions. With this product you can easily enjoy your home wherever you are, therefore it is considered as the best 4500 watts generator. In order to turn on the reliable power just follow the next steps, turn the fuel valve clockwise to the on position. Activate the switch press to turn on the display. The Start / Stop Button will blink green for up to 1 minute. Press the Start/Stop Button while it's blinking green to start the generator. Once the generator starts, the Start / Stop button will turn blue, indicating the generator is ready for use.
Item Specifications:
Power: 4500 starting watts and 3700 running watts
Item Dimensions (L x W x H): 24.5 x 17.6 x 20.3 inches
Item Weight: 115 pounds
Voltage: 120 Volts
Engine Type: 4 Stroke
Engine Displacement: 224 Cubic Centimeters OHV
Tank Volume: 3.5 Gallons
Start type: Electric / Recoil
Low Oil Shutdown: Yes
Fuel Gauge: Yes
Hour Meter: Yes
Warranty: 36 months consumer / 12 months commercial
Color: Grey
---

This EPA-approved powerful generator by Green-Power America is the best 5000-watt generator which delivers 5000 starting watts and 3850 running watts that supply continuous power to support home, leisure or building needs. It is equipped with LCT technology where the brand engines can operate in any weather conditions, making them reliable and easy to operate winter engines. Not only the unit has a quieter operation, lower exhaust emission, large fuel tank for extended running time, but also has a highly efficient alternator with AVR that makes the power output more stable. Not only this the LCT also enables the perfect vibration isolation effect. The oil shut-off system prevents engine damage when the oil level is low.
The engine displacement is 223 Cubic Centimeters OHV with 7.5 HP, and this LCT professional engine provides reliable and smooth power for 11 hours continuously at  50 percent load. Its economical and ergonomic compact design features a durable build along with the provision of an integral mobility kit with 8 inches solid never-flat wheels and particularly designed drop-down handles that makes it convenient for smooth and easy transportation and maneuvering over all sorts of terrains, including rough and rugged surfaces and also enables easy storage.
Keeping in view the technical specification, focused engineering has been placed on Quality, Durability, Innovation, and Longevity. It is a quiet generator, where the engine operates at the noise level of 76 decibels (dB (A))  at full load.it also features a manual recoil start 4 stroke cycle engine that offers a runtime of 11 hours at a ½ the load. It is equipped with DC outlets: one 12 Volts / 8.3 Amperes and AC outlets: two 120 Volts and one 120 Volt twist-lock. Fuel shut-off with an internal fuel filter and low oil shut-off system provided added protection for the unit. It also has a separate ground connector.
Item Specifications:
Power: 5000 Peak Watts and 3850 Continuous Watts
Item Dimensions (L x W x H): 25.9 x 23.9 x 22.2 inches
Item Weight: 109 Pounds
Voltage: 120 Volts
Frequency: 60 Hz (single phase)
Engine Type: 4 Stroke
Engine Displacement: 223 Cubic Centimeters OHV / 7.5 Horse Power
Runtime: 11 hour runtime at 50 percent load
Tank Volume: 4 Gallons
Start type: Manual / Recoil
Color: Blue and Black
Fuel type: Gasoline
Low Oil Shutdown: Yes
---
It is known as the best 6000 watts generator in the market that generates up to 6000 starting watts and 5000 running watts for the smooth functioning of your household or recreational spot. The fuel tank volume is 3.4 gallons which provide up to 7.5 hours runtime at 50 percent load. Considering its compactly ergonomic design featuring wheel and handle kit which maximizes its portability, it is also among the best generators for RV camping. The powerful 272 Cubic Centimeters OHV 4 stroke engine generates smooth and reliable power of up to 6000 surge watts and 5000 running watts.
For emergency backup to recreational power, get the power you need wherever you are. The WEN 6000-Watt RV-Ready Portable Generator has got your back now. Its packed versatile panels include two standard 120 Volts 20 Amperes household outlets (5-20R), one 120 Volts 30 Amperes RV receptacle (TT-30R) which makes hooking up to your RV easier than ever, one 120 Volts / 240 Volts four-prong outlet (L14-30R) which is perfect for emergency backup and one 12V DC outlet. The voltage, frequency, and runtime is displayed at the digital readout, which makes it convenient to schedule routine maintenance schedules, oil changes, and monitor the generator's output. The ergonomic design featuring the wheel and handle kit combined packed within a  compact sized unit makes it easy to transport and store.
Item Specifications:
Power: 6000 starting Watts and 5000 running Watts
Item Dimensions (L x W x H): 23.2 x 16.9 x 17.2 inches
Item Weight: 129.7 pounds
Voltage: 120 Volts
Engine Type: 4 Stroke
Engine Displacement: 272 Cubic Centimeters OHV
Runtime: 7.5 hours at 50 percent load
Tank Volume: 3.4 Gallons
Fuel type: Gasoline
Warranty: 24 Months
Color: Black and Orange
---
This beast, known as DuroMax XP12000EH Generator, is the best propane generator available in the market. DuroMax's XP12000EH is a 12,000-watt dual fuel portable generator available in a compact size that is known for provision of power typically found in home standby units. This beast offers not only smooth power but also versatility in powering your essential sensitive appliances and even a central Air Conditioning system through any critical power outage as a result of a storm, or any typical emergency event. It can be conveniently transported to the camping site or job site due to its powerful wheel kit with durable solid fill tires, which enables you to easily use it on any type of rugged and rough surfaces. Being a dual fuel generator it provides you with the freedom and flexibility of fuel choice as it either consumes gasoline or propane. Even though there are many gasoline fuel options available in the market that have been tried and tested but, liquid propane is used for the reason of its life longevity, less expenses, it also protects the generator's carburetor from any type of damage as it won't get stuck.
For your convenience, the XP12000EH model is equipped with an optional recoil start and a unique, user-friendly, keyed electric start. Not to mention that this powerhouse generator is powered by a 457 Cubic Centimeters (cc) DuroMax OHV  engine that is helpful in providing power juice to a fully loaded power panel, consequently allowing a user to draw and consume power of up to the maximum value of 12,000 watts. Included in the panel there are two 120 Volts / 20 Amperes outlets, one 120 Volts / 30 Amperes twist-lock outlet, a 120 / 240 Volts 30 Amperes outlet, and a 50 Amperes heavy-duty outlet to cater to the huge power demand.
The panel features the following:
A voltmeter
A unique DuroMax MX2 switch, to double 120 volts amperage for heavy loads.
Circuit breakers
Indicator to show Low oil levels
Idle control; and
Using this you can have maximum power from each 120 Volts receptacle and keep in mind that having the prospects of working simultaneously at both 120 volts and 240 volts.
The all-metal frame for a heavy-duty enclosure of the units fully isolates motor mounts and an oversized noise-reduction muffler having a built-in spark arrestor that is featured for smoothly quiet functioning. Like all DuroMax generators, this unit also has a build of copper windings, that has a life longevity covered by a 3 years factory.
Item Specifications:
Power: 12000 starting watts and 9, 500 running watts
Dimensions (L x W x H) of the item: 30 x 29 x 26 in
Weight of item: 224 Pounds
Voltage: 240 Volts
Type of Engine: 4 Stroke
Displacement of Engine: 457 Cubic Centimeters OHV
Runtime: 8 hours
Frequency: 60 Hz
Tank Volume: 8.3 Gallons
Start type: Electric / Optional Recoil
Fuel type: Propane or Gasoline
Color: Black and Blue
Warranty: 36 Months
---
Now you have all your power needs met with this product and you can now make your upcoming camping, hunting, fishing, hiking, or backpacking trip as comfortable as possible! This portable power station is an essential part of every RV camping. This Lithium Power Station Solar Rechargeable generator is specifically engineered to be eco-friendly and to make your life easier wherever you go. The pure sine wave is cleaner and smoother, which is safe for appliances. The built-in intelligent Battery Management System (BMS) protects devices from over-current, over-temperature, over-voltage, over-charging, and short-circuit.  The easy-to-read LED screen allows you to know when your portable power station needs recharging, the battery consumption rate, and discharge levels. A cooling fan is also available to avoid overheating. Being travel-friendly, it is also equipped with an emergency flashlight that will help you keep yourself and your loved ones safe in the dark. There are 4 convenient recharging ways:
You can easily re-charge your portable power station using your home wall outlet.
DC power from your 12 Volts car cigarette lighter
By using 18 Volts 60 Watts ~ 100 Watts solar panels.
A gas-powered generator in a campsite
In this way, you are never going to run out of battery, even if you are in the middle of nowhere!
Using this versatile power generator, you can now enjoy multiple outputs for all of your devices, including:
1 x Cigarette Lighter 12 Volts / 8 Amperes
1 x DC Output 24 Volts / 3 Amperes
3 x DC Outputs 12 Volts /4 Amperes
2 x USB Ports 5 Volts / Total 3.1 Amperes
2 x USB QC3.0 Ports
1 x AC Output 110 Volts 300 Watts
For Solar / DC charging Maximum Power Point Tracking (MPPT) built-in controllers are enabled for fast and optimized solar charging. It is lightweight, compact, easy to carry, and handle with a high packable design. Appliances run with less noise by using this product. Packed with a massive 75,000 mAh 280 Wh lithium battery, this 300 Watts portable power station can easily recharge drones, digital cameras, tablets, and personal medical devices.
Item Specifications:
Power: 300 Watts Rated and 600 Watts Peak
Dimensions of Item (L x W x H): 7.5 x 5.5 x 5.9 in
Weight of Item: 7.31 Pounds
Voltage: 110 Volts
Shelf-life: Charge every 3 to 6 months
Operating Temperature: 14 °F ~ 104 °F
Lifecycles: 500 Cycles to 80 percent capacity
AC Charging: 100 – 120 Volts AC
Solar / DC Charging: MPPT 13 ~ 24 Volts DC
Time To Charge Fully: DC / Solar→  7 ~ 8 Hours; and AC→  5 ~ 7 Hours
Frequency: 50 – 60 Hz
Start type: Electric
Color: Orange and Black
---
Fuel shutoff prevents blockages, maximizes the generator's lifetime, and limits maintenance by consuming the left-out fuel present in the carburetor before automatically shutting down. It helps in producing reliable clean and green power for your sensitive electronics such as smartphones, tablets, and laptops, with less than 1.2 percent total harmonic distortion, which provides quiet operation; 57 decibels (dB) at quarter load which is quieter than a window AC or a pleasant conversation. The keyless electric start lets you start this generator with just a single button. The built-in wheel kit and collapsible handle simplify convenient storage and transportation.
The package includes two three-prong 120 Volts receptacles, one AC 120 Volts 28 Amperes NEMA TT-30R RV receptacle, one 12 Volts DC receptacle, one 5 Volt USB port, a digital display panel for fuel and load. A manual Shutoff switch is also available for immediate shutdown. The eco-mode switch is known to maximize fuel economy and run time. The digital wattage meter provides an easy-to-read digital display of wattage, voltage, frequency, runtime, and fuel supply. Parallel connection is also available to share wattage between generators.
Item Specifications:
Power: 3800 starting Watts and 3400 Running Watts
Dimensions of Item (L x W x H): 23.2 x 18 x 20.1 in
Weight of Item: 99.2 lbs
Voltage: 120 Volts
Type of Engine: 4 Stroke
Displacement of Engine: 212 Cubic Centimeters OHV
Engine Runtime: 8.5 Hours at half the load
Eco-Mode: Yes
Tank Volume: 2.2 Gallons
Start type: Electric
Fuel Shut-off Option: Yes
Color: Orange and Black
---
This  G2319N 2300 Watts Portable Gas-Powered Inverter Generator by Pulsar is the best generator for tailgating, camping, and outdoor activities. It has a sleek modern design with a high-impact polypropylene case. It provides a pure, safe electric signal all the time. Runs up to 6 hours on 1.8 liters of gasoline at half the load. It is the ultimate choice for optimal portability. It only generates 59 dB of sound, making it ideally quiet and virtually silent from just 10 feet away.
The uniquely featured parallel capability allows you to run two G2319N generators in tandem with an adapter cable to effectively increase power output without the hassle of having a much larger unit.
The 'handy suitcase' design is both durable and compact that weighs only 47 lbs giving you the liberty to take it anywhere with ease. Features like the dual 120 Volts outlets (13.5 Ampere), 12 Volts 'cigarette' outlet, & Direct connect USB port (1.5 Ampere) provide you with pure, safe electrical power perfect for cellular laptops, and other mobile devices. In case of overload, the overloading indicator light warns you. Low oil indicator reminds you when you need to add oil. A single knob vacuum fuel flow control is also added for safer storage. It is also equipped with an economy switch that varies engine speed to current draw to reduce fuel consumption and noise. Easy circuit breaker reset is also available along with an AC pilot light that indicates 'All System Go'.
Item Specifications:
Power: 2300 watts and 1800 watts rated
Item Dimensions (L x W x H): 19.7 x 11.22 x 17.91 inches
Item Weight: 47 Pounds
Voltage: 120 Volts
Engine Type: 4 Stroke Gas Engine
Engine Displacement: 80 Cubic Centimeters OHV
Runtime: 4.8 hours at half load
Tank Volume: 1.18 Gallons
Low Oil Indicator: Yes
Overload Warning Light: Yes
Start Type: Recessed Recoil
Color: Gray
Warranty: 12 Months (Parts and Labor)
---
Final Words
In case, you need a quiet generator with clean power output, you should definitely opt-in for an inverter generator as these are great for occasions like supplying electricity for a computer or for the projector for drive-in movie night.  You can enjoy a family reunion at a beach or camp while having power supplied to you via an inverter generator. Inverters have a unique ability, however: they can pair together to provide double the electricity, with the right cords and equipment. While buying keep a check on how these specifications can actually serve you. Always go for a well-known brand and do proper research especially if you're a first-time buyer. Try to make a comparison of prices, features, and brands and then decide the product that serves you within your budget. If all else is equal between two inverters, let the best warranty win.
Frequently Asked Questions (FAQs)
Can an inverter generator run a refrigerator?
Firstly, you need to know how much your refrigerator draws the power in watts. As an electrical device, an inverter is used to run electronic appliances including refrigerators by converting DC battery power into 120 volt AC household power. Depending on the nature of need, Inverters generators are available in the market with different power capacities and some are even capable of operating refrigerators. Moreover, you also need to know how much DC battery capacity you will require to run your refrigerator.
What should I look for while buying an inverter generator?
Inverter generators are currently the best portable power sources available in the market to cater the power outage needs. There are a few advantages of having an inverter generator that you would not probably have with a traditional versatile generator. Contingent upon when and where you intend to utilize the generator, these advantages may be the main consideration. Movability, eco-friendliness, fuel efficiency, noise level, clean electricity, parallel capabilities.
How many watts do you need to power a house?
For operation under normal load conditions, continuous Power (or running watts) is the wattage that is required for electronic devices at their highest levels of power consumption. 5000 Watts to 7000 Watts is the optimal power an average-sized home requires to power essential and critical household items. First of all, figure out the starting wattage, also known as "surge" wattage of the appliances and fixtures you want to power. On the basis of calculation, find a generator that is powerful enough to exceed the combined wattage of every appliance that needs electricity.
What appliances will a 3000 watt generator run?
With the generator having 3000-watt power, on average you can run a wide range of electric home appliances such as an AC, refrigerator, a TV unit, an electric furnace, a laptop, and a microwave. Some home appliances need static wattage for example microwave, while a few appliances like coolers and refrigerators require a higher wattage sum when they are initially begun yet during activity, the running wattage regularly drops fundamentally. Hypothetically, a 3,000-watt generator can run numerous apparatuses all the while, however, each should be actuated independently. They're also compact enough to easily move them around. For those looking for a good portable generator for RV or camping – 3000-watt inverter generators are the best choice.
How can we differentiate a conventional generator and an inverter generator?
A generator is meant to produce electrical power, while an inverter is meant to draw the power from a fixed DC source and then invert the Direct Current into Alternating Current using a microprocessor. Inverter generators are a marriage between these two concepts. The main differences are on the basis of size, weight, fuel efficiency, run time, quality of the power produced, maximum power output, and noise as well. Generators use mechanical energy from external sources and convert them into electrical energy. The inverter converts direct current from sources like batteries to alternating current. Generators are ideal for long power cuts and inverters for short-term outages.
Is an inverter generator a better choice or a conventional generator?
There is no reasonable answer with respect to whether an inverter generator is better or a regular convenient generator. It truly relies upon how frequently the generator is to be utilized and for what reason. In some situations, an inverter is preferable and in some cases a generator. As compared to inverter generators, conventional portable generators produce more power and can cater to greater power needs.This has to do with various elements including the size of the gas tank and the mechanical distinction in power creation. Though, inverter generators are more effective regarding energy, on account of how the last Alternating current is created. Additionally, the motor of an inverter generator consequently changes with the heap which a regular versatile generator can't do.
What is the best inverter generator for the money?
There are a lot of brands present in the market that offer good inverters with various features against a good price. You just have to make sure to choose the one that is the best fit for your needs. There are many affordable brands present which are equipped with all the features you might be looking for in the inverter.
What is meant by an inverter generator?
The inverter generators are mobile and a clean source of electricity in case of power outages. It produces electricity in 3 phases (high-frequency AC to DC back to a stable AC current). The purely stable sine wave is the core reason that makes inverter generators so unique as compared to conventional generators. These are usually portable and convenient to use. It throttles the engine up and down electronically to meet power demand instead of running full tilt all the time.thus. Consequently, the result is the efficiency boost which means that the gas tank doesn't need to be filled up often. Moreover, Inverter generators are known to be generally very quiet and for the production of lower emissions.
Can I run a generator in the rain?
Never run a generator in the rain as it is highly risky to use it in rain or wet conditions because moisture can result in electrocution due to a short circuit in the frame or even an explosion, therefore, it is recommended to use a generator tent if it is needed for emergency situations. Moisture also damages the generator and thus reduces its lifespan as well. The best solution is to use special covers or enclosures.
How big of an inverter generator do I need?
A rough approximation of what size of inverter generator you need is by adding up the wattages of every device you want to power during an outage. Moreover, keeping in mind that some devices while operating draw a lot more wattage. If you rarely lose power then a mid-size inverter (up to 3500 watts) or recreational inverter (up to 2000 watts) will be the best fit. Mid-size inverter generators provide enough power to run a fridge and a window AC or space heater. For occasional outages, you must consider large inverters (up to 7500 watts).
Can you use an inverter generator Indoors?
You should really avoid using the inverter generators indoors, the reason being the exhaust from a generator can be hazardous and even deadly in enclosed places. An inverter generator must always be placed outside in order to let the fumes vent out properly.
How long do inverter generators last?
As compared to stationary generators, portable generators typically have a shorter lifespan and do not last long. The lifespan of inverter generators depends on the brand, size, capacity, engine quality, and pressurized lubrication that upon turning on the generator allows oil to circulate in the engine immediately. A portable generator is usually expected to last between 1000 and 2000 hours. Therefore, if it is used on an average of 100 hours every year then it is going to last approximately 10 to 20 years. The lifetime of the portable generator can be extended if it is prevented from being exposed to a lot of dust, moisture or dirt, so in order to save it is important to store and maintain it properly.